I've got a great project for you today – – a tutorial for how to make Heart Felt Flower Hairclips.  They are perfect for Valentine's Hairclips (you can see other non-felt types I made a couple of years ago) but really could be used for everyday wear because they're not too holiday-ish, especially if you did them in other colors.  Anyways, check out their cuteness above….
(FYI, it's still Take-A-Look Tuesday – just scroll down a post for that)


You'll need:
felt – you can grab the cheapo sheets of craft felt at Walmart or Michaels (try this Michaels coupons for current savings!), or buy the felt by the yard at a fabric store – both will work.
hot glue – yep, these are no-sew!
Hairclips for the back (I buy them in a bulk box at Sally Beauty Supply)
First up, cut out a bunch of hearts.  Lifestyle Crafts sent me some heart die cuts for use with my Epic 6 machine and I knew it'd be perfect for this project.  When I cut the same shape over and over and over, I like when I have a diecut to roll it through my cutter.  When I cut one thing, I like using my Silhouette Cameo because you don't need a specific cartridge or die cut for just one shape.  So anyways, I loved using my Epic from Lifestyle Crafts and cranking out a pile of hearts.
It was the first time I had used it to cut felt (normally I cut paper with it) but it worked great!
For one flower clip you'll need 5 larger hearts, 5 medium hearts, and one small heart.
I first saw this type of flower on this Etsy Shop, Dogwood Corner via pinterest, but obviously there was no tutorial so I had to figure it out on my own.  Here's their picture (hmm, can't get it bigger or to center).  These ones are smaller (2 inch-ish) and mine are bigger (4 inch-ish) but you could make them however you want.  Or just buy them from them (although remember they aren't hairclips yet) – seems like a great price.
So moving on, if you're wanting to make your own….
Place the five medium hearts on top of the 5 large hearts with their points matching up, and using a light layer of hot glue, glue it down, like so:
(I thought about sewing these, but hot glue is the best way to hold felt to felt if you ask me.  And
Kimbo
– she made a video to prove it ….hmm, can't find the link to it, you'll just have to believe me)
Then put a little hot glue on top of the tip and pinch it into a fold, like shown:
Do that for all five.  Then snip the tip off of each one – I found they fit together better that way.  Then place them in a circle, plop some hot glue in the middle, and shove them all together tightly.  
Then glue a heart on top of the center so you don't see the hot glue mess…
On the back, hot glue a hairclip on, then open it and hot glue on another heart (oops, I guess that means you need 12 total – I think I said 11 earlier) to cover the bottom of the clip and reinforce the attachment.
That's it!  You can make a pair and wear them with pigtails, or go with a single clip to hold back bangs or top of a ponytail.  Any way, they're super cute!!
I love how the fold gives them tons of dimension – kinda hard to show you, but I tried – see how they kind of pop up and fill out – love that!
So if you want to cut millions of hearts, check out
Lifestyle Crafts
 (they sent me dies at no cost, but opinions are all mine!) – the dies can work with many hand-crank type machines.  They have tons of new dies for Valentine's – here's the one used in this project (nesting hearts – hearts are such a hard shape to cut by hand, I think this die is a MUST), and look for other projects with other dies coming soon….
for 20% off use the code "SUGARBEE"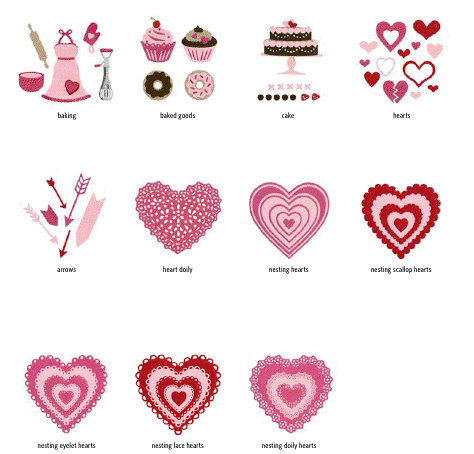 And random, look, my posts now automatically add a "pin it" button with my signature – awesome, right?!? hope it works, this is the debut…..you just have to make sure you're on this specific post, not my whole blog….
Thanks for checking out this post from www.SugarBeeCrafts.com – – click on over to read it in its entirety – you'll love it!